Yellowstone Discovery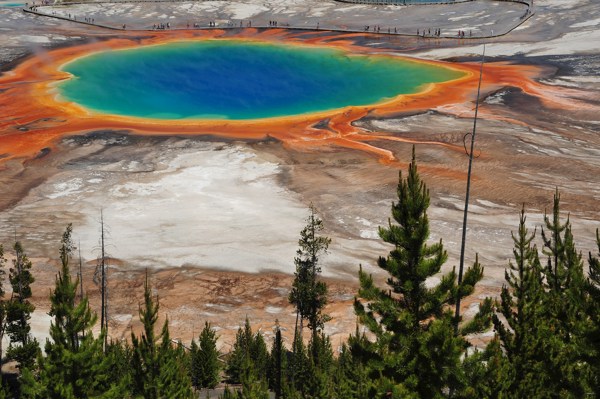 Yellowstone Discovery
Venture into Montana's outstanding national parks, Yellowstone and Grand Teton- on a Limited-Edition Tour. With up to just 17 fellow guests, you'll enjoy breathtaking natural beauty, mountains, geysers, wildlife watching, picnics and the fresh open air. Your adventure starts in Bozeman, with the opportunity for a hike or some archery in Big Sky, before you embark on a four day voyage into the magnificent Yellowstone National Park, the most in-depth exploration that we offer. See famous geysers and hot springs, view wildlife after-hours with a Local Expert and join a myriad of gentle hikes around the intriguing features of the park. A memorable finale awaits at Grand Teton National Park, famed for its beautiful mountains. With sustainable travel at its core, this tour brings you closer to nature, including an opportunity to learn about the National Elk Refuge, its habitat preservation for endangered species and the nationally significant Jackson Elk Herd, a MAKE TRAVEL MATTER® Experience.
Dining Summary
4 Dinner with Wine (DW)
6 Breakfast (B)
Choice Highlights
Choose between two carefully selected activities
Big Sky: Test your archery skills with the help of an expert on an exciting archery course.
Big Sky: Tie on your hiking boots and enjoy a scenic chairlift ride up the mountain and explore the area on a guided hike.
Authentic Dining
Bozeman: Meet your Travel Director and fellow travelers for a Welcome Dinner.
Insight Choice
Big Sky: Test your archery skills with the help of an expert on an exciting archery course.
Big Sky: Tie on your hiking boots and enjoy a scenic chairlift ride up the mountain and explore the area on a guided hike.
Insight Experiences
Mammoth Hot Springs: Join a Local Expert for a walk to view wildlife and learn about the park's history, culture, wildlife, geology and more! Settle down to enjoy a delicious picnic lunch featuring local delicacies and wine, while you admire the vibrant views and listen to stories of life as they were meant to be told.
Jackson: Enjoy a visit to the National Museum of Wildlife Art and join a docent for a walk on the Sculpture Trail. Gain insights into the sculptures and surrounding landscape before continuing your exploration of the museum at your leisure. Featuring works by prominent artists such as Georgia O'Keeffe, Andy Warhol, Robert Kuhn, John James Auburn and Carl Rungius, the Museum's unsurpassed permanent collection chronicles wildlife art from 2500 B.C.E. to the present day.
Top Rated Highlights
Yellowstone National Park: The world's first National Park, Yellowstone spans 2,219,789 acres and even has its own Grand Canyon. The park is home to half of the world's hydrothermal features, more than 10,000, of which over 300 are geysers. Yellowstone is also a wildlife paradise. Some 1,700 species of plants and 400 species of birds, fish and mammals live in the park, including bison, wolves, bears, elk and moose.
Yellowstone National Park: One of the major geyser basins in Yellowstone, the Mammoth Hot Springs Area is visually unique from the other thermal features in the park. Here, hot water rises through the limestone, dissolving large quantities of rock and leaving a chalky mineral deposit in the surface. Find yourself by the bubbling waters, whose constant movement means the springs are changing all the time.
Yellowstone National Park: Two gentle hikes offer the chance to admire the views and meander past many of the park's beautiful and historic hot spring terraces. An abundance of wildlife inhabits the area including bears, elk, mule deer, moose, beavers and a large variety of water birds.
Yellowstone National Park: Learn about how the Yellowstone super volcano, its geysers and hot springs, and geological history shape every living organism in the park. The center offers a fascinating range of interactive exhibits, animations, audio-visual productions and real-time scientific data.
Yellowstone National Park: The many sights of this magnificent National Park include its spectacular geysers and bubbling hot springs. A heady mix of open meadows and hills, deep canyons and cascading falls awaits you along with stunning viewpoints from which to admire the park and its surrounding areas.
Yellowstone National Park: Take a walk to Fairy Falls which, at 200 feet (61m) high, is one of Yellowstone's most remarkable waterfalls. This is the perfect way to say farewell to the park and all its wonders.
Yellowstone National Park: The Park's Upper Geyser Basin and Midway Geyser Basin are home to some of the world's most spectacular hydrothermal features: Old Faithful Geyser, Opal Pool, Turquoise Pool, Excelsior Geyser Crater and Grand Prismatic Spring.
Grand Teton National Park: Travel through a mountainous landscape like no other. Witness the striking Grand Tetons thrust skyward 6,562 feet (2,000 meters) from the valley floor and keenly watch for exciting wildlife that call these mountains home. Including the grizzly bear, bald eagles, moose, bison, and elk.
Jackson: The valley of Jackson Hole offers an exhilarating taste of the old Wild West with snowcapped mountains, generations of elk herd and sky-high pine trees. In the town, take pictures under the famous elk antler arches, stroll the boardwalks and browse boutiques and art galleries.
Travel is our passion and every step is designed with your comfort and pleasure in mind, giving you the vacation of your dreams. Enjoy a premium journey packed full of stylish hotels and authentic dining. Savor the views as you travel on spacious customized coaches, so that you arrive refreshed at each destination, and benefit from smaller group sizes. We believe incredible travel is about enjoying every moment, so the only question left for you is where do I want to go?