Treasures of Italy - Small Group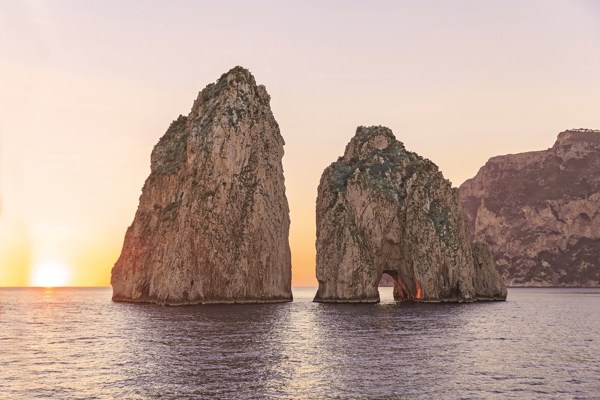 Treasures Of Italy - Small Group
Experience Italy on an 11-day guided tour. Explore the Eternal City with a Local Expert, who will whisk you to the Vatican Museums for a tour of the Pope's art collection and a behind-the-scenes look at the Bramante Staircase, a spiral architectural masterpiece. Later, see the infamous Colosseum and the Arch of Constantine. Cruise to Capri, where you'll take an open-top taxi to the top of the island for unparalleled views of the rugged coastline and sparkling sea - then walk the Caesar Augustus Gardens and see the Faraglioni rocks with a Local Expert. In Venice, walk through St. Mark's Square and see its basilica of the same name; later, allow yourself to be serenaded as a gondolier glides you through the city's canals. Sail to the candy-colored island of Burano, where you can toast to a fantastic trip at a celebration dinner featuring wine and fresh-caught specialties.
Dining Summary
5 Dinner with Wine (DW)
10 Breakfast (B)
Choice Highlights
Choose between two carefully selected activities
Florence: Wander through the market stalls and browse for local Italian souvenirs and leather goods on a guided shopping tour.
Additional Included Highlights
: Personal radio headsets give you the freedom to wander during visits to famous highlights, without missing any of your Local Expert's fascinating commentary.
: Hotel and restaurant tips are included - you'll never have to worry about how much to give, nor search for foreign currency. We also include all taxes and porterage charges at hotels.
: We carry your bags for you and promptly deliver them to your hotel door.
: From time to time, your Travel Director will delight you with an Insight Flourish, which is a local specialty representing the destination.
: Stay connected with friends and family with our complimentary coach and hotel Wi-Fi (where available).
: If your arrival and/or departure flights are as per the itinerary start and end dates, then transfers are available at scheduled times. If your flights are outside these times, or you have booked additional nights accommodation with Insight Vacations, you may purchase transfers or make your own way from/to the airport.
Authentic Dining
Rome: Enjoy a Welcome Dinner with your fellow travellers at a uniquely Roman local restaurant.
Italian Lakes: For your Dine-Around Evening, you are offered a selection of hand-picked local restaurants to choose from, each with its own distinctive ambience and cuisine.
Lake Iseo: Learn about this historic winery, passed down through the generations, and taste its latest vintages.
Burano: Cruise to the charming fisherman's island of Burano to enjoy a delicious Celebration Dinner with wine and new-found friends.
Insight Experiences
Vatican: Gain priority access into the Vatican Museums and admire the famous Bramante Staircase. Witness the genius of Michelangelo in the Sistine Chapel and view the splendid dome of St. Peter's Basilica.
Make Travel Matter
Venice: Witness the ancient skill of glassblowing, now practised by precious few masters. Watch artisans create delicate works of art using rare traditional practices. The workshop's master craftsmen teach visitors about the traditional craft of glassblowing and its history which dates back to the 15th century. Every visit helps to support the workshop and the survival of this traditional craft.  The workshop advances UN Sustainable Development Goal 11: Sustainable Cities and Communities.
Top Rated Highlights
Rome: Discover ancient treasures of Rome with a passionate local. See Circus Maximus and the Ancient Forum, and stand beside the Colosseum, which bears witness to the limitless courage of the gladiators.
Pompeii: Walk with a Local Expert through the cobbled streets of this ill-fated town, frozen in time since the 1st century.
Capri: Cruise between the island and mainland by jetfoil and get a flavour of the jet-set lifestyle with two nights on this famous isle.
Capri: Relax and enjoy the views as you are driven in an iconic open-top taxi.
Capri: Explore Capri town with your Local Expert and see the whitewashed houses, winding alleyways, small cafes, fashionable boutiques and artisans studios.
Capri: Discover the luxuriant Gardens of Augustus with a Local Expert and admire views of the Faraglioni rocks.
Florence: Wander through the market stalls and browse for local Italian souvenirs and leather goods on a guided shopping tour.
Florence: See the area around Santa Croce Basilica, famous for the quality of its luxury goods and witness a gold and leatherwork demonstration.
Florence: Enjoy panoramic views over of the city and see the Florence Cathedral. During your guided walking orientation, see the bell tower, Gates of Paradise on the baptistery and visit Piazza della Signoria.
Cinque Terre: Led by your Local Expert, visit this unique UNESCO World Heritage Site, tucked away on the mountainous Italian Riviera coastline. Explore one of the five charming fishing villages for some memorable pictures.
Portofino: Visit this elegant fishing village and admire the coloured houses and yachts moored in the harbour.
Venice: With your Travel Director cruise to St. Mark's Square and see the Doge's Palace, Bridge of Sighs and St. Mark's Basilica.
Venice: Delight in the magic of this charming city as you are serenaded, travelling through the atmospheric canals by gondola.
Well-being
: Enjoy the comfort of Insight's luxurious, air-conditioned, 40-seat coach with double the standard legroom and onboard washroom. Our customized luxury coaches are sanitized before the start of your tour and are maintained to very high standards. P...
With Insight, you'll enjoy the best experiences your destination has to offer – all included within one price. You'll travel in business class elegance to quality, handpicked hotels in the best locations on our luxury coaches. They're specially configured with fewer seats to offer 100% more legroom than standard touring coaches.
You'll meet new people, too. Whether you join us on your own, as a couple, or with friends and family, the small group that you travel with will share your pa
...